The president has made identity politics part of his vision progressives must fight back on those same terms, says Guardian columnist Nesrine Malik
The 2020 US presidential election is going to be about native entitlement. Its going to be about race and immigration and deportation and Israel and every other wedge issue Donald Trump can summon to split the vote into us and them. He will become Chief Native, swelling his supporters sense of dominion over others less white. The campaign has already started; his social media presence has gone from ungainly swiping to a more coherent regular punching. He has in effect launched a cyber-bullying offensive.
Trump will reduce people to tears, from black TV anchors worn down by his racist attacks to Rashida Tlaib, reeling from the unexpected emotional shock of her Palestinian grandmother being dragged in the mud of Trumps bear pit. He will tell Jews how to vote and nurture antisemitism while pretending to give a damn about Israel so that he can smear Muslim opponents. What was a prominent theme in the 2016 campaign, going after Muslims and immigrants, will become the only theme.
It might appear to be an unprecedented escalation, but Trump is only the latest Republican politician to leverage white identity politics for electoral gain, the only difference, as with everything else that sets him apart from his predecessors, is that he is not intelligent enough to do it subtly.
There really are no more excuses. A Trump voter in 2020 is a voter who can no longer plausibly pretend, to themselves or others, that their reasons are down to economic anxiety or some left behind resentment. Yet these excuses will be rolled out anyway, so established are the patterns that let voters off the hook for supporting racial supremacy. In 1990, a former Ku Klux Klan grand wizard, David Duke, ran for Senate in Louisiana and secured 43% of the vote. One could not distinguish between the justifications for voting for Duke then and the reasons white people voted for Trump in 2016: a working-class post-recession revolt; an angry message from the disenfranchised to the elites of Washington.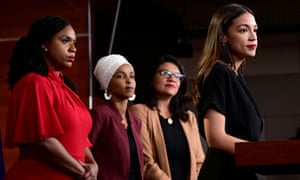 Source: http://www.theguardian.com/us