Salvador Panelo tries out public transport in clogged Philippines capital after sparking anger by saying there was no transport crisis
President Rodrigo Dutertes spokesman suffered through a three-hour commute in Manilas clogged street after drawing public anger by insisting there was no traffic problem in the Philippines capital.
Salvador Panelo ditched his car and documented the journey after accepting a social media challenge to experience the daily woes of commuters.
He had been criticised for saying there is no mass transport crisis and that people could still arrive at work on time if they left home early. The statement came amid growing criticism of the Duterte governments failure to provide solutions to ease transport problems after a fire that suspended the operations of a key metro train line on which students rely heavily.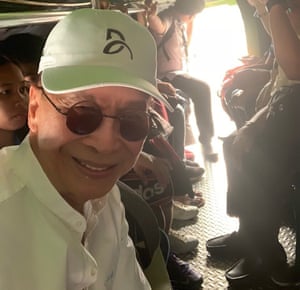 Source: http://www.theguardian.com/us