Phillip Youmans used his own savings to make his award-winning debut film, attracting the attention of Ava DuVernay
Phillip Youmans, age 19, sits in a chic downtown Manhattan restaurant drinking coffee. As recently as a year ago, when he was just another NYU undergrad, he might very well have walked by and gotten a glimpse of a tableau like this from the outside-in. That sort of thing has been happening a lot lately finding himself on the other side of a scene hes witnessed over and over again.
Youmans has come directly from the airport, having just returned from the New Orleans film festival, where his debut feature Burning Cane landed a plum showing at the Orpheum Theater. The Crescent City native has a specific memory to go with this one: I remember going to see A Ciambra, Jonas Carpignanos movie about the Romani people in Italy, at the Orpheum a couple years ago. I never imagined Id play there one day. I couldnt have.
Life has gotten very surreal very quickly for Youmans, who went from another teenager with big dreams to a bona fide artist, becoming the first black director to win the best US narrative feature award at the Tribeca film festival before nabbing a distribution deal from Ava DuVernays company. His story, that of a resourceful and determined kid going full DIY to accomplish something plenty of adults spend their entire lives trying to complete, has an instant boy-wonder hook. But beyond all the precocity, beyond his narrative, beyond the satisfying uncanniness of getting VIP treatment at places he once paid to enter, theres a movie. And its a shockingly good one.
Youmans drew on his experiences growing up in Louisiana and its Baptist churches for the worshipful yet critical Burning Cane. It paints a portrait of the struggles of those attending a sweltering service every Sunday in the deep south, focusing on a mother concerned for her son and his burgeoning drinking problem. The poetic look at all that this corner of Christianity has to offer solidarity and strength, though not without prejudice and reactionary thinking began as a short when he was only 16, though he just used that as a concept for the full-length project in his head. Id decided that this was what I wanted to do, Youmans says, so I just had tunnel vision. I had to make this happen.
So he did, though, of course, that was much easier said than done. The biggest hurdle standing between most first-timers and the realization of their vision has always been money, and that was no different in Youmans case. He cobbled together a budget by taking a little here and a little there. I put all of my savings into the film, which was around twenty-five hundred bucks, he recalls. I cashed out a lot of savings bonds that Id gotten from family members. I was working at a beignet stand in City Park thats no longer in operation now; it turned into another Caf du Monde. It was quick, and a lot of cash for a high school job. I was stacking that up in the months leading to principal photography, and then me and my producer Mose Mayer started an Indiegogo. Started pooling from my family, some of Moses family donated a bit too, and that was enough to get us through production. We never had extra funds. There was a lot of stuff we needed to get for free.
The generosity of kindred Louisiana locals, admiring the gumption and ambition of Youmans crackerjack operation, took him far. (People take care of each other around New Orleans, he says.) The jack-of-all-trades spent most of what he had on locations, from a Thibodaux sugar plantation complete with standing slaves quarters to the Mount Sinai Baptist church in Algiers, but shot in many places for free. He found collaborators in friends, family, family friends and friends families. Everything started to get real when he landed Wendell Pierce, a TV veteran and the most well-known name in the cast, through a favor from a stranger.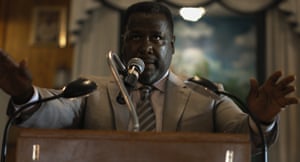 Source: http://www.theguardian.com/us