Dean Hendersons goalkeeping error allowed Georginio Wijnaldum to score as Liverpool won 1-0 at Sheffield United
Liverpools latest title challenge has begun in formidable and often near flawless fashion but their seventh successive Premier League win came riddled with imperfections, reminding everyone that they are mortal after all.
A week after winning at Everton, Sheffield United revelled in going toe to toe with the European champions and seemed set to collect a point before a ghastly, freakish, goalkeeping error on the part of the previously underemployed Dean Henderson gifted Gini Wijnaldum the winning goal. It was Liverpools first victory here since 1990 and they are unlikely to forget it in a hurry.
Along the way Jrgen Klopp was forced to make changes to formation and personnel as his side struggled to preserve their 100% League record. Had it been a draw I would have said it was what both teams deserved, he said. It is unlucky for Sheffield United, for sure.
We were playing against a proper unit with the team, the manager and the crowd all making it feel as if you were playing against a wall. I was very impressed. The way they fight and play reminded me of my old team at Mainz. They do so many really good little things.
If Liverpool had expected Sheffield Uniteds overlapping centre-halves to retreat into their shells, they were swiftly disabused as Jack OConnell, the left-sided element of the defensive trinity, pressed forward and Enda Stevens, the left wing-back, repeatedly accelerated into the space left behind Trent Alexander-Arnold. While Chris Wilder had clearly identified Liverpools right-back as a weak defensive link, Stevens shone.
As a former centre-half, the watching Gareth Southgate probably enjoyed the no-quarter-given duel involving Oli McBurnie whose bristling ginger beard seems somehow emblematic of his invariably feisty interpretation of the centre-forward role and Virgil van Dijk. Although the much lauded centre-half held his own, he will certainly have had more comfortable afternoons.
Southgate had driven down from his North Yorkshire home to watch contenders for his England squad, perhaps including George Baldock, Sheffield Uniteds right wing-back whose private duel with Andy Robertson would assume increasing importance. It did not take long to realise that, like Alexander-Arnold, Robertson could not exert his usual influence.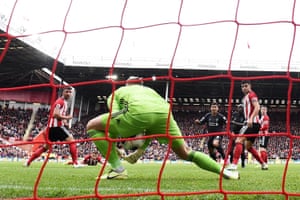 Source: http://www.theguardian.com/us