The calving of the 1,636 sq km iceberg is not linked to climate change, scientists say, but could speed up further melting
A gigantic iceberg about the size of greater London has calved from the Amery ice shelf in east Antarctica, according to expert monitors.
The tabular iceberg, officially named D-28, separated from the ice shelf on 26 September. The iceberg is 1,636 square kilometres in size, or about 50 x 30km, the Australian Antarctic Division said.
Ice shelves are platforms of floating ice that form where the Antarctic ice sheet meets the ocean. Working in a similar way to architectural buttresses, they hold back the flow of the grounded ice.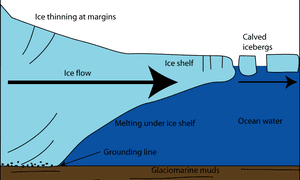 Source: http://www.theguardian.com/us