Air pollution in capital territory 20 times higher than WHO recommended safe level
The residents of Delhi have already begun to forget what it is like to wake up and see the sky.
Almost a week on from Diwali, the thick brown smog that shrouded the city after the festival has showed no sign of shifting. On Friday, as the air became poison and 20 million people struggled to breathe, a public health emergency was declared, with Delhis chief minister Arvind Kejriwal declaring the city had turned into a gas chamber.
Sachin Mathur, 31, an auto rickshaw driver in north-west Delhi, said he was forced to stay outside for work but had been struggling to breathe as he went about his day, and could barely keep his eyes open on the roads because the pollution made his eyes tear and sting.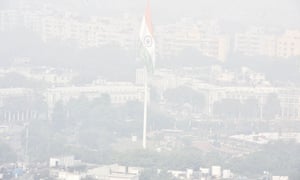 Source: http://www.theguardian.com/us