Parents join search for Amelia Bambridge, who was last seen at a party on Koh Rong island
The father of Amelia Bambridge, the British woman missing on Koh Rong island in Cambodia, has said he is losing hope that his daughter will be found alive.
The 21-year-old from Sussex went to a party on Police Beach with about six friends and was last seen at approximately 3am local time on Thursday (2100 BST on Wednesday). CCTV footage of walkways near the beach reviewed on Monday showed she arrived at the party at about 2am, but did not show her returning.
Her father, Phil Bambridge, and her brother Harry Bambridge joined more than 100 Cambodian officials and about 15 volunteers on Monday morning for a third day of searching the island and surrounding ocean. Amelias mother, Linda Schultes, arrived on Koh Rong later in the day.
On Monday afternoon, Phil Bambridge said he did not think his daughter would be found alive. Im not doing very well, he said. I just hope we can find her, but it seems like its going to be difficult. Im not [optimistic], unless a miracle happens. I hope a miracle does happen, but I dont think well see her.
Bambridges bag, containing her bank cards, phone and other items, was found on rocks next to Police Beach on Thursday morning. Phil Bambridge said that due to reports and evidence he had seen about her disappearance, he feared his daughter may have made an uncharacteristic lapse in judgment on her night out.
I spoke to her [before her trip] about safety, safety, safety, safety, he said. And she was like, Yeah, she knew about all that. She was always reliable, switched on. But I think she still broke her own rules. She had her safety rules, and she let them slip, and shes now paid the ultimate price.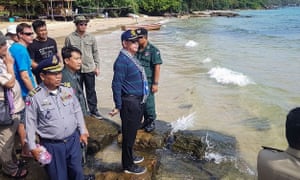 Source: http://www.theguardian.com/us