Former EastEnders actress Katie Jarvis says she felt "degraded" and "hurt" after a newspaper splashed pictures of her working as a shop security guard.
On Sunday, the Daily Star revealed the actress, who played Hayley Slater, was now working at a B&M store in Romford.
It prompted an outpouring of empathy on social media, as many actors noted the uncertain nature of the profession.
Speaking to the BBC's Victoria Derbyshire Show, Jarvis said the tone of the story was "really quite nasty".
"I woke up really embarrassed and made to feel quite ashamed, to be honest" said the 28-year-old, who now works alongside her sister.
"See over my career I've done by best to try and stay away from social gatherings, get-togethers and celebrity things, to keep my private life as private as possible.
"So to wake up with my kids and see myself on the front of the pages just for simply having a job in between my acting, it really did hurt me."
She added: "It took a day or so for me to actually let it all digest and realise I had nothing to be ashamed about."
'Overwhelmed'
Jarvis first made her name starring as Mia Williams in the 2009 British drama film Fish Tank, before heading to Albert Square for a year-long stint which ended in February 2019.
The east Londoner explained she's worked in a range of jobs to support her acting career – including as a waitress and for a credit card company.
She admitted she's been "overwhelmed" by the support she's received from her acting colleagues, like Kathy Burke, who comically re-interpreted the headline of the tabloid story – or non-story, as she saw it.

In a show of solidarity, other TV stars revealed they too supplement their acting careers with other types of employment.
Tamzin Outhwaite posted: "Yes, I am a landlady, a voice over artist, car boot salesperson, art dealer, up cyclist, interior designer, motivational speaker, and many other jobs… it's what artists do to earn a living. They work in between jobs."
'No shame'
"It's called grafting!" she added. "Or not being afraid of hard work… or loving your family enough to drop your dream for a bit to earn a living so the family can live life. And there is no shame in wanting to work hard to make sure your offspring are cared for."
TV critic Emma Bullimore told the BBC she understands why actors are getting upset with the newspaper for splashing Jarvis's new non-acting job all over the front page in a "humiliating" manner. But, she says, the situation is "more complicated" than some soap stars are making out.
"I can see both sides of it really as it does feel quite cruel in the way that they did it, kicking her while she's down I suppose," says Bullimore.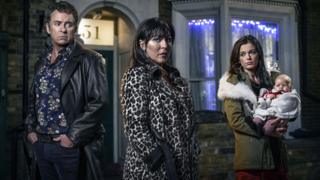 "But with a tabloid hat on, you can totally see that it is the perfect story – she was in one of the biggest shows on TV, had a massive part in it and she was basically in every scene for a little while.
"Then she disappeared, slightly oddly, and now suddenly she's working at B&M. I think if she was working at Waitrose it would not be as good a story."
Charlie Condou, who played Marcus Dent in Coronation Street, called the Jarvis story "shameful journalism," adding he'd done something similar himself.
"When I left Corrie I had a string of very nice TV and theatre jobs," he tweeted. "Then I didn't.
"So I got a job working in a restaurant to pay my bills and take care of my kids. That's what responsible adults do."
'Feels like a choice'
In one of her most memorable EastEnders scenes from last Christmas, Jarvis's character Hayley pushed Alfie Moon, played by Shane Ritchie, down the stairs in defence of her relative Kat Moon.
Since leaving EastEnders, Jarvis has kept a relatively low profile. However, in March, she tweeted to say she was "absolutely fine" following reports she had been "glassed" on a night out.
She's no longer on social media.
Bullimore believes "it feels like a choice", in this instance, for her to make the move away from the camera so soon, making the newspaper article all the more intriguing for readers.
"I can see why people would want to read it because they'll think 'surely you're really well paid if you're on EastEnders and you're living the life of an actress.' And she was in it so recently, so why would you need the money so quickly?
"That's not to say that I think it [the story] is fair, but I don't think it's necessarily any worse than the way that tabloids treat actors in general."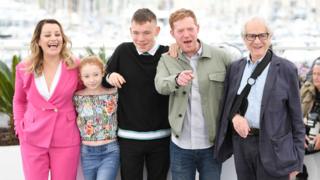 Jarvis is not the first and won't be the last actor to do a "normal job" before, during or after an acting career.
In fact, award-winning director Ken Loach told the BBC's arts editor Will Gompertz he actively shied away from casting big name Hollywood stars in his latest drama, Sorry We Missed You, in favour of actors who have had recent experience working in relevant industries.
The film features actor/plumber and van driver Kris Hitchen and actress/teaching assistant and care worker Debbie Honeywood at the head of a Newcastle family, struggling to make ends meet on zero-hour contract jobs.
Believable
"Finding people to bring a story to life is the second-most important decision you ever make in filmmaking, second to the script – which is the most important," explained Loach.
"The camera can see who you are, maybe in ways you're not aware of – how you stand, how you use your hands, the quality of your skin depends on your diet. Every mannerism that you're not aware of. And you've also got to believe that people can do the job they say that they can do in the film and reach the character and absolutely have the capacity to draw the audience in.
"So the audience laughs with them and cries with them and is angry with them and identifies with them and has solidarity with them. And we were really lucky to find Chris and Debbie."
He added: "They're both terrific, but they can act, make no mistake."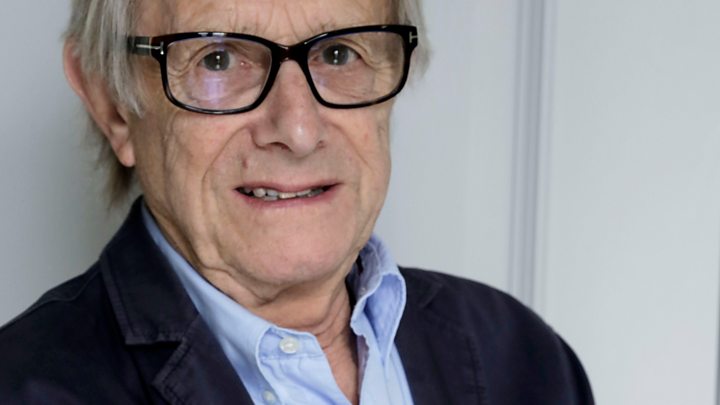 Elsewhere in the industry, former Hollyoaks and Holby City actor Jeremy Edwards found work, like Jarvis, as a security guard, and as a gardener. As Celebs Now reported, in 2011, he noted: "I don't know any actors who work consistently without other work. A lucky few, but not many, I had a good 10-year run!"
Gemma Merna, who played Carmen McQueen in Hollyoaks for eight years – winning best comedy performance at the 2007 British Soap Awards – now also works as a yoga instructor and personal trainer.
Meanwhile, Geoffrey Owens, who played Elvin in the Cosby Show between 1985 and 1992, thanked supporters last year after photos of him working as a cashier at US grocery Trader Joe's were mocked online.
Rap star and Cosby Show fan Nicki Minaj donated $25,000 (£22,433) to the "legend" after he was similarly job-shamed, however, Owens donated the amount to a fund helping actors in need.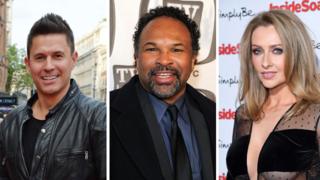 Follow us on Facebook, on Twitter @BBCNewsEnts, or on Instagram at bbcnewsents. If you have a story suggestion email [email protected].
Source: http://www.bbc.com/news/uk