It would be a mistake to focus too narrowly on the presidents dealings with Ukraine, says political science professor Corey Brettschneider
In the coming days, opinions sections and cable news shows will be inundated with discussion about whether President Trumps attempt to pressure the Ukrainian president, Volodymyr Zelenskiy, into investigating Joe Bidens role in a supposed conspiracy was a criminal act. However, the answer to this question alone does not tell us whether Trump should be impeached. The constitutional standard of impeachment high crimes and misdemeanors is not a legal one. Rather, an impeachable offense occurs when a president violates the oath to abide by the constitutions limits and respect its values. Trumps use of political pressure on a foreign power to further his own re-election chances clearly fits.
For Trumps actions to merit impeachment, he need not have attempted to engage in a quid pro quo with Zelenskiy. The released transcript clearly shows the chief executive of the United States pressuring a foreign government to criminally investigate his political opponent. That alone is impeachable. To faithfully execute the law, as Article II demands of the president, requires enforcing the law impartially, as a tool for equal justice, not personal gain. This behavior alone, clearly evidenced by the transcript, is an impeachable offense because it is an egregious flouting of the oath of office.
Those who wish to wait for a criminal inquiry before starting impeachment proceedings would do well to open an introductory law school casebook. High crimes and misdemeanors is a category found nowhere in criminal law. The framers meant something broader: a demeaning or undermining of the office. High crimes are actions that abuse the publics trust in the president. Of course, legal crimes can also be high crimes; stealing money from the public treasury is both illegal and impeachable. But a president does not need to break the law to commit a high crime.
Nor does a successful impeachment require evidence beyond a reasonable doubt that a high crime was committed. No judge rules on permissible evidence during an impeachment inquiry or trial, nor can the judiciary overturn any eventual ruling. It is solely up to the individual consciences of the representatives and senators to decide whether Trumps actions sufficiently debase the obligations of the oath of office to warrant removal. The revelations of Trumps Ukraine dealings make clear their votes should be yes.
However, its not only Trumps Ukraine dealings that warrant impeachment. The House Speaker, Nancy Pelosi, is reportedly considering focusing the impeachment inquiry only on Ukraine and barring discussion of other topics. That would be a mistake a missed opportunity to educate the public about Trumps broader myriad violations of his oath, from his efforts to obstruct justice as detailed in the Mueller report, to profiting from official business hosted at his properties, to equating white supremacists with law-abiding Americans.
Declaring these failures of office irrelevant would replicate Congresss failure in the impeachment of President Andrew Johnson in 1868. Then, Congress resented Johnsons abject refusal to enforce civil rights legislation after the civil war. But instead of impeaching him for that, they took a legalistic route, citing his firing of secretary of state Edwin Stanton in violation of the Tenure of Office Act. Ultimately, Johnson was acquitted by one vote in the Senate. History largely remembers the impeachment as an unjustified partisan trial.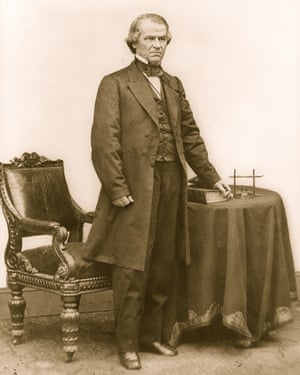 Source: http://www.theguardian.com/us