Government has invested in infrastructure and social programs, but critics fear the end of democracy if Morales wins
Early every morning Juanita Flores walks ten minutes down a newly paved road to climb onto a sparkling new cable car that whisks her to her job selling vegetables in a renovated market in the centre of Bolivias capital.
I get here in half the time it used to take me, she says, and in the rainy season I dont have to slosh through mud anymore.
On her walk she passes a refurbished school and several multi-story new buildings, all with sewage systems and running water. She and her husband, who owns a minibus are gradually buying their own home. I never dreamed we would be able to buy a house, she says.
Such changes are evident everywhere across Bolivia, the work of a government that has invested profits from a commodity boom into infrastructure and social programs.
But as the October 20th national elections approach, enthusiasm for this government is tempered by ambivalence. President Evo Morales, is seeking an unprecedented fourth term after 13 years in power, and in a country with long periods of authoritarian rule, the possibility of another re-election makes many nervous.
Its true that Evos been in power too long, said hotel worker Juan Rivero in Santa Cruz. But at the same time, this government has done a lot for us.
Until recent disastrous wildfires, it seemed likely that Morales re-election was inevitable. But the slow government response to the fires which devastated more than 4m hectares (9.9m acres) of forest and arable land provoked large demonstrations in the cities of Santa Cruz, Cochabamba and La Paz in early October.
Protesters also expressed anger over Moraless efforts to remain in office, despite a previous pledge to leave at the end of his third term as stipulated by Bolivias 2009 constitution. That commitment came immediately after he narrowly lost a February 2016 referendum his government called on whether he could stand again.
A year and a half later, the countrys Supreme Electoral Tribunal chosen by a legislative assembly dominated by Morales party ruled that denying his candidacy was an infringement of his human rights.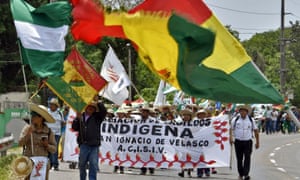 Source: http://www.theguardian.com/us