In a city with a $12bn budget and tech millionaires, more than 8,000 people are forced to sleep on the streets each night
They appeared seemingly from out of thin air last month: two dozen knee-high boulders, at first glance, unremarkable, placed with remarkable precision along a sidewalk in a quiet alley in San Francisco.
Within days, they became a flashpoint for a city in the midst of a homeless crisis.
Residents of the Clinton Park alley, located to the north of San Franciscos trendy Mission District neighborhood, funded the rock installation to deter loitering after what they described as a year of flagrant drug-dealing and unpredictable behavior. Housing advocates and other civically minded critics were quick to call the boulders out as anti-homeless architecture.
Boulders dont stop people from drug dealing, said Jennifer Friedenbach, the executive director of the Coalition on Homelessness. But they do stop people from sleeping.
So began a tale of Sisyphean feats. An artist put the boulders up for sale on Craigslist. The post was flagged and taken down. Activists rolled the rocks off the sidewalk and into the street. The city, which was not involved in the installation, placed the boulders back. The boulders ended up in the street again. Back on the sidewalk. Back in the street.
At the heart of this whole saga is a simmering frustration, coming in from all directions, at one specific issue. In a city with a $12bn budget, where new tech millionaires street-park their Teslas and pay for their multimillion dollar condos in cash, more than 8,000 people are forced to sleep in the streets each night.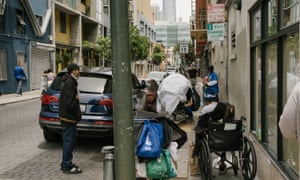 Source: http://www.theguardian.com/us