New South Wales faces an unprecedented fire danger on Tuesday amid high temperatures and strong winds
Fire chiefs in Australia have warned of the most dangerous bushfire week this nation has ever seen, saying New South Wales the countrys most populous state faces an unprecedented catastrophic fire day on Tuesday
Sixty fires are currently burning in across the state, 40 of which are running out of control. There are also nearly 50 fires burning in Queensland, and fires in Western Australia and South Australia.
Across NSW, three people have already died, and more than 150 homes have been razed. An extreme and persistent drought has left much of the region tinder-dry. The conditions, combined with temperatures in the high 30s and strong winds, are expected to present about 1,300 volunteer firefighters from across the country with life-threatening fires on Tuesday that will be impossible to stop.
Even as emergency authorities were making their preparations, the federal governments refusal to discuss the role of climate change in worsening the fire risk attracted condemnation, after the deputy prime minister Michael McCormack on Monday dismissed such concerns as the ravings of inner-city lunatics.
Earlier, the NSW premier, Gladys Berejiklian, took the unprecedented step of declaring a state of emergency that will be in place for a week.
At one stage on Friday, weeks ahead of Australias traditional bushfire season, 99 fires were burning out of control simultaneously across the state, including 17 that were considered life-threatening emergencies. Already this year, bushfires have burnt more than 850,000 hectares across NSW an area more than five times the size of Greater London and three times as much as burnt all of last fire season. Thousands have been evacuated from their homes and hundreds of schools have closed.
The commissioner of the NSW Rural Fire Services, Shane Fitzsimmons, said the state faced the most dangerous bushfire week this nation has ever seen.
And he warned that beyond the immediate threat this week the fire threat would only worsen as Australia heads into summer. We have got the worst of our fire season still ahead of us. Were not even in summer yet, he said.
In the decade since NSWs bushfire ratings system was revamped following Victorias Black Saturday fires which killed 173 people Australias largest city, Sydney, has never had a catastrophic rating. As well as the greater Sydney region, the areas immediately north and south of the state capital the Greater Hunter, and the Illawarra and Shoalhaven are also rated catastrophic.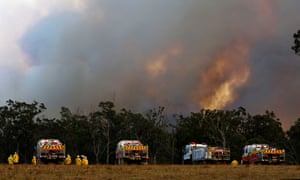 Source: http://www.theguardian.com/us