Star performed in city for the first time since a benefit gig for those killed at her concert in 2017
The last time Ariana Grande performed in Manchester, in the harrowing days after the blast that killed 22 people and injured hundreds more at one of her concerts there, her tribute show began with a minutes silence and the words: Lets not be afraid, Manchester.
She returned to the city in sparkling style on Sunday night, dazzling through a party playlist as she pledged her undying love to a place that has made her its own since the attack on 22 May 2017.
The 26-year-old Floridian, who was made an honorary citizen of Manchester following the tragedy, returned for the first time in two years to headline its biggest ever Pride celebrations.
There was, unsurprisingly, no explicit reference to the terror attack but, shaking with nerves, Grande did speak about her special connection to the city. I love Manchester so much, thank you so much for having me back, she said, to cheers.
Im so happy to be here with you it means the world so thank you for having me. Im sorry, Im so nervous, I had so much more to say but Im like very overwhelmed so thank you. Its so beautiful, I love you so much.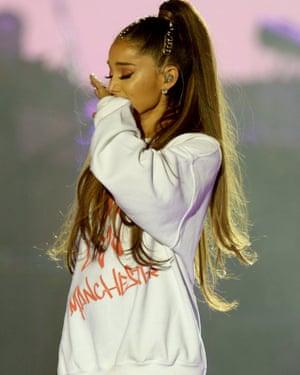 Source: http://www.theguardian.com/us