As the cult shows wild-eyed crystal meth dealer, Aaron Paul became one of TVs most unexpected anti-heroes. But then, as Rhik Samadder discovers, the actor is full of surprises
The skinhead with crazy eyes opens a concealed hatch in the floor to reveal a chilling sight: stark concrete steps leading to an empty basement, bare walled, dimly lit. The kind you see on the news. Its not that I expected Aaron Paul to live in a trailer, cooking meth in his underpants, but this is a surprise. To clarify, the rest of his Hollywood house is beautiful, befitting the star of one of the most successful TV shows of all time. Breaking Bad broke viewing records and was acclaimed as the high watermark in a golden age of long-form television. Bryan Cranstons performance as chemistry-teacher-turned-drug-kingpin Walter White is often described as Shakespearian, yet it was the slow-burn arc of his slacker protg, Jesse Pinkman, that was arguably more cathartic. How does any actor move on after being in a masterpiece? We talk about it all the time, he admits. The way he describes the finale sounds almost painful. It was next to perfect. Brian and I read it together at his place in New Mexico. When he read the screen direction end of series we just sat in silence for 30 seconds.
I meet Paul earlier at a long table in his expansive garden, amid the sound of rushing water. He smiles broadly, the sun beaming just for him. Its kind of strange to see him happy, in patterned shirt and shorts. I know how lucky I am. Im on top of the world. The breeziness contrasts sharply with his onscreen presence. There, he has a mania in his blue eyes and flushing skin, threat in the ravaged growl of his voice, but also beautiful vulnerability. We see the puppy inside the feral dog. No matter how intense the situation, you believe him as an actor.
Its frustrating that since that finale, he hasnt taken on a leading role of weight. There was Exodus, an underwhelming Ridley Scott biblical epic, and Need for Speed, an overtly foolish video game tie-in about street racers. He does produce the excellent cartoon BoJack Horseman and his upcoming role in Westworld should be a better fit. But judging by social media, Paul seems to be most passionate about Dos Hombres, his mezcal collaboration with Bryan Cranston. Fans were delighted then, by the announcement of El Camino, a standalone movie sequel to Breaking Bad, which streams on Netflix from 11 October. What might surprise them is that its Jesses film alone. Yet Paul is confident theres enough story to tell. I lived and breathed every moment of his life that we saw, and then some. This is the role of a lifetime.
It must be a strange thing for a man in early middle age to be so closely identified with a baggy-panted drug dealer he first played in his mid-20s. I thought we finished that story six years ago, he acknowledges. And now I zipped on the skin again. But hed follow writer-director Vince Gilligan into a fire, and public appetite was overwhelming. People were just so passionate, and wanted answers. Asking when the next series of Breaking Bad was gonna be you can put that dream away wanting to know what happens to Jesse. And what happened to Jesse. Theres a clear sense he owes the character a life debt, for the adulation he receives, and the luxury surrounding us. A lot of people will always see me as Jesse, and I take that as a compliment. The show was a game changer.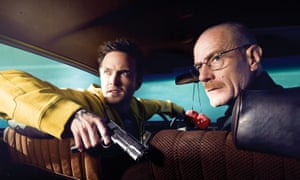 Source: http://www.theguardian.com/us