Axe-wielding thieves broke into cabinet at Green Vault museum in Dresden royal palace
A 49-carat diamond estimated to be worth up to 9m was among the items stolen from a German state museum this week, the museum has confirmed.
The Green Vault museum at Dresdens royal palace said the items taken on Monday included a sword with a hilt encrusted with nine large and 770 smaller diamonds, and a shoulderpiece containing the famous 49-carat Dresden white diamond.
Eleven pieces were removed in the raid and parts of three other items are also missing.
The Dresden white diamond was one of the most precious jewels in the collection that once belonged to the former Saxon ruler Augustus the Strong. Tobias Kormind, the managing director of 77 Diamonds, a diamond retailer, said it could be worth up to 8m or 9m. None of the diamonds would have been in themselves extra special except for the one large Dresden white, he said.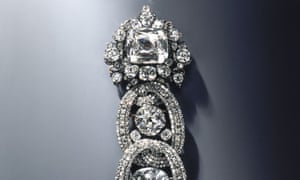 Source: http://www.theguardian.com/us